Welcome
Welcome to our 36th Claim Solutions' Newsletter.
T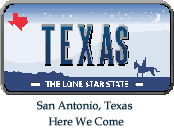 his Newsletter features a Scholarship Win for Claim Solutions, ten ways to improve the claims experience, a caution to look out for hidden costs and a warning to keep your pets away from your treasured gems.
Our regular list of possible insured events over the past quarter is contained on page 4. It records some of the fires, floods, chemical spills and explosions which have made the news.
A more extensive list is available at our website.
We would be pleased to receive your feedback in relation to this newsletter and articles you would like featured in the future. Please do not hesitate to contact us with your claim queries.
For a fully searchable history of our newsletters check out Insuropedia at www.insuropedia.com


To see a list of recent losses,

Joe Willis Wins 2009 Claims Scholarship!
In December 2009 Joe Willis of Claim Solutions was delighted to be awarded the 2009 Claims Scholarship.
The Scholarship is a collaboration between the Australian and New Zealand Institute of Insurance and Finance (ANZIIF) and specialist law firm, Turks Legal. Entrants wrote a paper on one of a number of insurance claim topics.
Joe's paper addressed the early resolution and payment of claims in adverse situations such as the 2009 bushfires in Victoria and the floods in NSW and Queensland. Joe was motivated to write on the topic as Claim Solutions has been involved in a multitude of claims from both events.
In addition to considering the origins & future of the claims industry Joe highlighted that claims are not always about the timing of the payment but the manner in which the issues are addressed and the extent to which the claim is supported by a solid insurance team working with a clearly written and well structured insurance policy.
ANZIIF & Turks Legal commended Joe's paper in a joint media release.
The Scholarship funds a trip to the 2010 Claims Conference and Insurance Services Expo in San Antonio, Texas in March 2010.
This will provide an opportunity to understand the claims industry and its services from a global perspective.
Joe is looking forward to bringing news of the conference to you in subsequent newsletters.


To see a list of recent losses,

Ten Ways to Improve the Claim Experience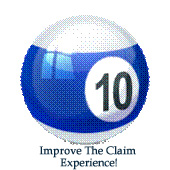 1. COMMUNICATE
Communicate well! One of the most common reasons for a claim to become difficult to settle is poor communication. Claims are not black & white. They can involve loss, trauma and emotion. They involve insurance policies, interpretation and the payment of money. This is a recipe for issues to arise, differences in opinion and clashes of personalities.
If problems occur it is critical they be identified and communicated as soon as possible. Issues need to be resolved at the earliest opportunity. Claims are a time for clarity of thought and, above all, accurate communication.
2. LISTEN
Accurate communication is impossible without listening. The claims experience can be improved by listening to all parties especially the Insured. The Insurer, broker, loss adjuster and claims preparer will never know the Insured's business as well as the Insured themselves. It is important to obtain a clear understanding of the Insured's business and the impact of the loss on the business for a claim to be successfully resolved.
3. ACT PROMPTLY
Just as important as accurate communication is promptness. The best time to document a claim is immediately after the loss. The best time to address issues is as soon as they arise and the best way to resolve a claim is as soon as adequate documentation has been presented.
Claims are dependent on external events; storms, fires, cyclones, earthquakes, etc. Claims volumes can increase dramatically unexpectedly restricting the ability to respond promptly. If this occurs it is important to consistently reappraise and inform the insured when the claim may be resolved.
4. PROGRESS PAYMENTS
One of the best methods to ensure confidence in the claim process is for an early progress payment to be made. It confirms the Insurer has accepted liability under its insurance policy and, in the case of Consequential Loss claims provide vital cash flow to allow a business to survive.
5. POLICY WORDING
The policy wording is the rule book we must all follow to resolve a claim. A poorly structured insurance policy is likely to lead to confusion, debate and disagreement. It is critical for the policy wording to be written with unfailing clarity where no word is wasted and the right word is used on every occasion.
6. REASONABLE PROOF
Avoid documentation paralysis. It is important for a claim to be documented well. However on occasions the level of documentation requested may become unreasonable. For example if an insured submits a claim for stock containing over say 10,000 line items it is unreasonable to expect documents to be supplied to support the replacement cost of all stock items. Such a request would be unreasonable and quickly paralyse the claim. The claim becomes a matter of Standard of Proof rather than loss or damage. It is important to remain focused and "reasonable".
7. AVOID PROFILING
The characteristics of some claims may fit a profile which suggests it is genuine while the characteristics of another claim may suggest it is not. It is important to consistently endeavour to avoid the conscious or sub-conscious profiling of claims. The circumstances and personalities involved in every claim are different and each claim needs to be assessed on its merits.
8. THINK LATERALLY
Claims are many and varied. Claim Solutions applies insurance policies to claimants from manufacturing operations, medical institutes, retailers, to transport companies and private schools, etc. It is important to keep an open mind, think outside the square and make the policy work.
9. UNDERSTANDING
Insurers, brokers, loss adjusters and claim preparers understand the claim process. They deal with it regularly. With repetition comes familiarity. Claims literacy amongst Insureds is uncommon. Fortunately they are unlikely to be exposed to claims regularly. It is important for all parties to recognise and make allowances for this imbalance of knowledge. We must ensure that the Insured is provided with every opportunity to understand the claim process and settlement.
10.PROFESSIONALISM
The right professionals must be matched to appropriate claims. For example it is inappropriate for a loss adjuster specialising in Property Damage to report on a Consequential Loss claim. It is also inappropriate to engage a builder specialising in domestic dwellings to reinstate a multi storey office block.
The claim experience can be improved by ensuring the claim is supported by a solid team of professionals appropriately qualified for the task at hand.
CONCLUSION
Claims and their resolution can be a complex process and we hope these ten points may assist to improve the claim experience.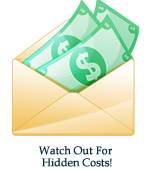 Claim Solutions recently prepared a claim for the reinstatement of a three storey, tenanted dwelling in the Melbourne CBD. Damage was extensive and reinstatement was difficult. The internal boundary walls were exposed brick which were heavily embedded with carbon and soot deposits from the smoke flowing from the fire. Painting of the brickwork would destroy the ambience of the building. Cleaning was necessary. After considering various methods high pressure water cleaning was the most viable option. This proved successful. The remainder of the building was reinstated, builders were paid, a final form of release was signed and the claim was resolved.
Two months later the Insured received an invoice from its water provider. To his dismay the invoice was some $3,000 greater than expected.
Enquiry suggested that the water provider had based previous quarterly invoices on estimated readings and a site reading was not conducted until after the claim was resolved. The increased charge was attributed to the high pressure brickwork cleaning several months earlier.
It is important to be aware that hidden costs from suppliers can appear some time after reinstatement is complete.
In this case the claim was successfully re-opened, however, other Insurers may not be so accommodating once final settlement has been agreed.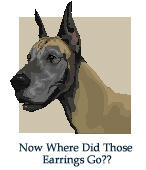 The May 1992 Issue of the Canadian Insurance Magazine sent out a message to keep your pets away from your earrings.
The owner of a Great Dane was shocked when her beloved pooch jumped up to the dresser snatching a pair of diamond stud earrings valued between $1,500 and $2,000. Fortunately the jewellery was insured under an all risks insurance policy and when a week of searching through the pooch's deposits failed to produce the treasured gems the claim was paid.
Geez... glad we didn't have to verify that claim!
The Articles which appear in this Newsletter are not intended to be a substitute for specific technical advice.